Complex Amenities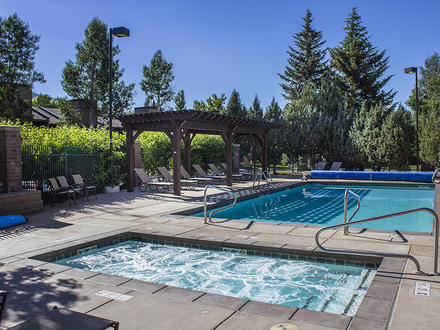 All guests at the Park City Townhome have use of the following on-site amenities at the Park Avenue Condominium complex located only a couple of buildings away from the unit.
Rental Office – In the middle of the building is an office that allows for key pickup and drop off. A concierge is on duty in this facility all winter (mid December – March) from 8.00 am to 10.00pm and few hours less in summer.
Heated Outdoor Pool – This pool is about 40-feet long and is open in both winter and summer, with a normal temperature over 70 degrees. It has a large deck (great for lounging on the summer) and an entry close to the lockers (convenient in the winter).
Locker Rooms – The men's and women's locker rooms include a lavatory, shower, dressing area and saunas (see below). Not only can the lockers be used for the pool and recreation facilities, but they also provide a place to change clothes and clean up before you check-in or after you check-out. This allows you to catch the slopes or some sun on your last day and, if you have a late departure, have a place to shower and dress before you leave.
Spas – Two outdoor hot tubs are located in the recreation building next to the locker rooms and adjacent to the pool. They are open during the same hours as the rental office.
Saunas – In each of the men's and women's locker rooms there is a sauna.
Tennis Court – This hard surface court is locked and can be accessed by making a reservation or obtaining the key at the rental office. Also, a tennis complex with both indoor and outdoor courts is only a mile away in Park Meadows.
Free Shuttle Bus Stops – There are shuttle stops at the front and back entrances to the complex.
ADJACENT AMENITIES:
Park City Golf Club – The Park Avenue complex provides tone of the closest lodging facility to this public course, other than the Park City Hotel. The Hotel, the Pro Shop, putting green and range are only a block away from the Park City Townhome. As you approach the 18th green, leave your bag at the condo, take a club or two to finish the hole and easily walk back to the unit.
White Pine Cross Country Ski Course – The starting point for the facility is in the new Park City Hotel, just a block away. The Park City Townhome is only about 20 feet from the course making it ski-in and ski-out unit – if you're cross country skiing.
Walk and Jogging Trail – The walk in front of the complex eventually turns into a jogging/walking trail that extends for miles. Within a couple of blocks there are also hiking and mountain bike trails that criss-cross the Park City Mt. Resort